There's been some discussion about the pros and cons of the three-point shot. The following chart shows the points per attempt for each spot on the court. Granted the data is using NBA players, but I presume that the same trends still hold.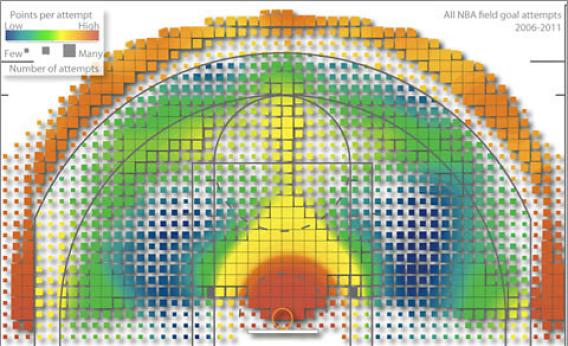 http://www.slate.com/blogs/browbeat/2012/03/06/mapping_the_nba_how_geography_can_teach_players_where_to_shoot.html?wpisrc=twitter_socialflow
Basically it seems like shooting a mid-range jumper is wasting your time. If you aren't going to shoot a layup, go out to the three point line, where your payoff is higher. Conversely, if you are fine taking a two-point shot, then make sure it is as close as possible.
Perhaps Chambers can look at this chart for our pathetic defensive field goal numbers as well. We need to help on D, but not at the expense of leaving the three-point line open. Give them the mid-range jumpers.